A global force for change.
What's the
Heart?
Science?
We have a lot of respect for consumers.
They each navigate the world in their own way. They're smart, they're constantly evolving, and we help brands evolve in time with them.
We dig deep into data for insights.
We help brands build individual relationships at scale using sophisticated data platforms that reach high value consumers with the right message at the right time.
---
At the helm.
Hearts & Science was founded with a special focus on data analytics and a foundation of heart. Here are the masterminds behind our success.
Ralph
Pardo

Chief Executive Officer

As CEO of Hearts & Science, Ralph brings over 15 years of experience leading talented teams and orchestrating award-winning campaigns for some of the world's most beloved brands. A charismatic leader, champion and coach, Ralph has been at Hearts & Science since its early inception, initially heading up an Omnicom cross-agency team dedicated to AT&T after successfully leading the pitch for the business. He was named one of Adweek's Media All-Stars in 2018 and his team has won numerous top awards for digital creativity. Since stepping into the U.S. CEO role in September 2020, he's continued to focus on nurturing and motivating talent, elevating media standards, and bringing unparalleled data solutions to market.

Prior to joining Hearts, Ralph was President at OMD East, where he focused on Unilever and was awarded Adweek's Global Media Agency of the Year. He spent his early career at Mindshare, where he managed the Sprint account. When he's not working, Ralph can be found in his native Brooklyn, cycling or hanging with his wife and twin boys.

Jeff
Wamble

Chief Financial Officer

Crunching numbers and deciphering analytics, Jeff lives and breathes where finance meets creativity. He loves perfecting his craft in an evolving environment like advertising and media and is always analyzing spreadsheets to provide additional value for clients. He wears many hats and gives equal attention to Hearts & Science, its employees and its clients.

Jeff has a firm grounding in finance, starting his career as a senior accountant at the Arthur Andersen accounting firm (now Accenture) before becoming the director of finance at Stillking Films Group. He later made his full foray into the media industry as a finance director at Ogilvy and later at OMD. 

Jeff's diverse work background has enabled him to successfully adapt to different personalities across the agency while still providing support as a business partner. A man of many talents, he also spent six years in the Louisiana Army National Guard and earned his MBA from Columbia University.

Alex
Siddall

Chief Strategy Officer

Alex helps clients keep the emotional connection with consumers strong, even in an ever-growing transactional world. He believes there is true differentiation in how Heart & Science shows up for clients and is at the frontlines of defining strategic products to keep them there. From shaping the value proposition, to winning pitches and expanding the client portfolio, Alex is an invaluable asset on the Hearts & Science team.

With over 15 years of senior leadership experience, Alex directed projects at agencies like Initiative and We are Mobile Ltd to simplify stories, narrow focus, and translate campaigns across touchpoints. This work gave him a deep understanding of the importance of translating insights into actionable media behaviors and his contributions were instrumental to winning Adweek Agency of the Year in 2019.

If he's not cooking up the next creative strategy for a client, he can be caught compulsively checking the latest property listings or brushing up on his semi-professional soccer skills.

Dana
Basile

Chief of Staff

People are the engine of Hearts & Science and Dana is at the center of creating the programs, protocols, and processes to keep things humming. She loves to refine processes and thrives in environments where she can coordinate any hint of chaos into new working models for better client and team efficiency.

Dana has a deep understanding of staffing across its lifecycle from her extensive experience working with both teams and clients. From her time as Client Success Director at Kenshoo for clients like AT&T and Hilton, to Executive Director of Client Operations at Hearts & Science, Dana transformed their ecosystems at the intersection of vision and output.

She has deep expertise in employee turnover and its correlation to emotional intelligence from her MBA thesis published with honors. Now she's ready to build on that experience to enhance the Hearts narrative alongside its CEO. She is intentional about elevating every voice, and that shines even brighter on karaoke night when choosing the perfect song.

Sharon
Cullen

President of Integrated Investment

Whether it's making a mean guacamole or streamlining digital and programmatic, Sharon always strives for excellence. She is excited to inspire teams at Hearts & Science to put data at the forefront of their investment decisions and knows that this approach will help build trust with clients. 

Sharon has been a key part of the Omnicom Media Group family for the last 25 years. From her early stage career in research and sales for A&E and BBDO to the east coast regional director at OMD, Sharon is ready to help others pivot along with an ever-changing media landscape. She was named Media Buyer of the Year by TVWeek in 2018 and has maintained a curious attitude toward continuously learning in the midst of an evolving industry. 

But it's not just accolades and experience that Sharon has been collecting along her career—she also has a diverse set of Brady Bunch paraphernalia. Ask her about it!

Evgeny
Popov

Managing Executive Director

Evgeny is passionate about stepping into the unknown and supporting self-discovery in himself and others. Every day he comes to work fueled with a love of people and data, ready to solve marketing problems from a holistic perspective. He is currently working to develop scalable end-to-end technology, analytics, and marketing science capabilities to enable data-driven intelligence initiatives through a customer-centric lens of reciprocity and empathy.

Evgeny has more than twenty years of media advertising, programmatic, and advertising technology experience. He has had exposure to both the buy and sell sides in his senior positions at large data publishers like News Corp and Ninemsn. His career has spanned locations across APAC, EMEA and LATAM, and gives him a global perspective in his work.

If he's not hitting the slopes on his skis, Evgeny is likely playing chess against himself, or building out his next top 50 books for the coming year. Have any good recommendations?

Ilana
Casser

Executive Director, Head of New Business and Marketing

Inventive at heart, Ilana is always looking to identify new ways to elevate growth at Hearts & Science. She caught the bug for new business early in her career, learning quickly that the hustle, the tension and the thrill of the win is where she wanted to make her mark. Now she is working to bring business development and marketing closer together for greater market impact.

With a breadth of almost 20 years of experience across marketing agencies, Ilana has a clear perspective of the unique advantage Hearts & Science holds in the market. She served as Head of Growth at Initiative and SVP of Integrated Media at 360i. Her work was instrumental in guiding these teams to several engagement and media plan awards with some of the most notable successes to each of those agencies, too.

Her experience as a mother has resulted in a keen perception and ability to juggle competing tasks and never lose her cool. She won "Working Mother of the Year" in 2018 and is not afraid to (out)shine in her 11-year old daughter's TikTok videos and challenges.
Closer to home.
Jennifer
Rodis

President, United States

Deep in the entertainment category, Jenn works with Warner Bros. to decipher how data and consumer signals can be used for better marketing decisions. Beyond strategy, Jenn is known for team building and operational innovations that deliver critical thinking at all levels of the organization. She's extraordinarily competitive and loves to get under the hood and help films open to number one at the box office.

Jenn has worked on 9 of the 10 highest-grossing opening weekend box office films of all time. Having spent 18 years as part of the OMG family, most recently as executive vice president at OMD Entertainment, she's a team player and believes that people are the most valuable investment. Her strong entertainment edge comes from working with brands like Disney and Universal from her time as senior vice president at 4D and associate media director at DDB Entertainment.

Jenn loves getting to see movies before they come out in theaters and gets a kick out of listening to live music! She's been to 32 Foo Fighters shows across the country and shows no signs of slowing down.

Mike
Ryan

Executive Director, Agency Operations

Mike has a green thumb for growing, whether that's in his garden at home or developing the best and brightest individuals at Hearts & Science. He is the man behind the agency operations and prides himself on nurturing resilient teams to thrive, even in remote environments.

From ad sales management at USA Today to Director at Starcom to Executive Director at Hearts & Science, Mike has over 20 years of experience navigating negotiations and operations in the media space. At Hearts & Science, he has been instrumental in leading his teams to receive the highest possible grades in client governance scores each year as well as driving the highest levels of excellence and performance within the larger client audits. Mike is also responsible for leading the Hearts client finance teams who are responsible for over $3.5 billion in billings.

Mike is in his happy place when driving automation projects and improving processes for his clients and the agency—almost as happy as finding that perfect piece of rare, mid-century glass in a second-hand store.

Vanessa
Vining

Senior Director, Cross-Cultural Strategy & Head of DE&I

Vanessa loves bringing data into discussions about DE&I to understand culture and behavior. She is a firm believer that diversity and inclusion is a business imperative and is working hard with fellow DE&I warriors to bake it into the DNA of the agency.

Vanessa has a decorated background as a seasoned media and marketing executive with over 25+ years in advertising. In time, she has honed the ability to envision, create, and execute successful data-driven omnichannel strategies. Her work covers brands like the U.S. Army, Nissan/Infiniti, Beam Suntory, US Bank, AT&T, McDonald's, and General Motors.

She has an uncanny ability to enter a room, any room, and come away with new relationships. Learning and teaching are in her DNA, and that fuels her ability to articulate culture for brands. She's always on the move and that energy extends to her love of motorcycles.

Jason
Jahn

Senior Director, Agency & Product Marketing

Jason is the mastermind behind making the people and platform at Hearts & Science shine in branding, thought leadership and industry relations. He joined Hearts & Science with the challenge of building the marketing practice from the ground up, and his vision for the agency's brand identity now guides its mission for over 1,800 employees worldwide. Making it a priority to celebrate the team's work, he has spearheaded and won 100+ agency nominations and awards.

Jason has extensive experience managing marketing teams, honing his deep listening skills, empathy and contagious enthusiasm. From Marketing Director at ShareThis to Head of Agency & Partnership Marketing at AOL, he knows firsthand the value of a well-defined brand and how to make the impossible happen. His work at AOL helped drive $100M+ in revenue, and he has been integral to expanding Hearts & Science to 31 offices in 19 countries around the world.

Whether it's optimizing a complicated campaign or the maximum number of travel points, Jason has a passion for finding the competitive edge. He also recently discovered a passion for fostering rescue dogs—ask him about his latest foster!
We're deeply committed to breaking down systemic bias and building a more inclusive world. Our action plan addresses a broad range of workplace inequalities with an urgent focus on advancing opportunities for Black, Indigenous and People of Color (BIPOC).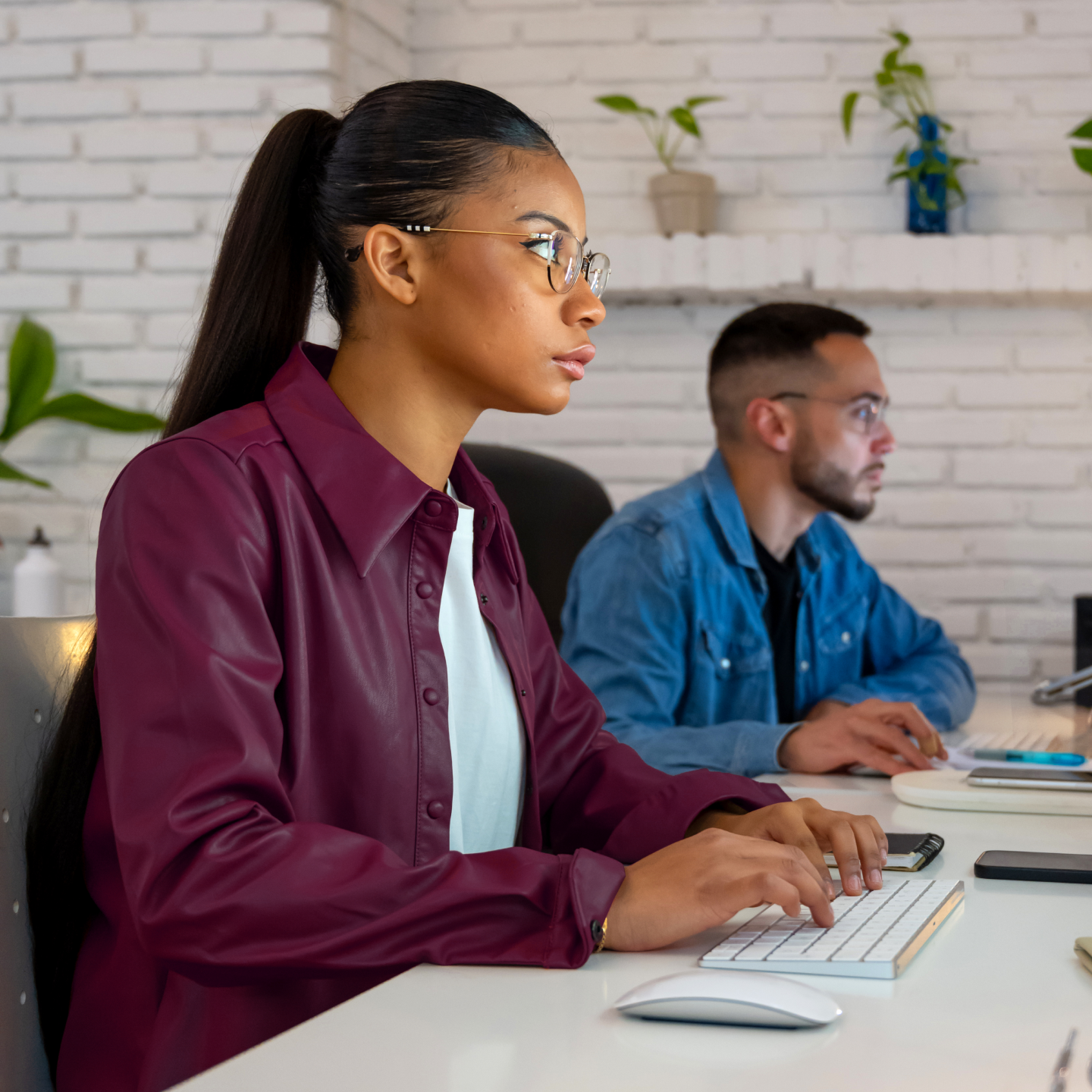 Our DE&I next steps
Develop a DE&I Best Practices guide for employees
Expand pro bono client work to more equality and social justice organizations
Expand Internship & Mentorship programs to more BIPOC candidates globally