Community Spotlight: National Hispanic American Heritage Month
Your stories have power. They bring ideas to life and can shape how others see the world. Here at Hearts, we use stories to build community. 
This is one of many posts in our Community Spotlight Series, where we feature Hearts who identify with a group and have important conversations about how we can support one another. 
Throughout the series, we will work closely with these individuals to create an experience where they can share their culture with fellow Hearts. We'll hear directly from them about their lives, the safe spaces they've created to live their truth, and how we can be better allies. 
And then we listen. 
Because more than ever, stories that celebrate our differences need to be heard.
Celebrating Latino culture without limits
National Hispanic American Heritage Month, from September 15 to October 15, invites us to honor Hispanic and Latino Americans' traditions, culture, and contributions to society. 
The Hispanic and Latino communities are a vibrant and integral part of American society, with rich stories to share that are often passed from generation to generation. This celebration of culture is by no means bound to the official monthlong designation. Let's take meaningful and continuous steps toward increasing representation in the future while fostering connections within the community in the present.
Here's what we're doing to recognize National Hispanic American Heritage Month at Hearts & Science:
Hispanic Heritage Month Pop Culture Trivia (Wednesday, September 27, 2022, at 2:00 p.m. ET for Hearts employees)
Join Hearts & Science and the OMG Unidos Leadership Network for Hispanic & Latin American-focused trivia. Learn about Hispanic & Latin American activists, media, organizations, and more while having a blast with your team. Points collected per team will donate meals to sharethemeal.org, which will combat hunger in Colombia. Play the game and make the world a better place!
Hispanic Heritage Month 5K Run/Walk
Join the Latinos Run for their annual HHM 5K Run/Walk, which can be completed in person or virtually. There are several dates and locations to choose from. Sign up and be sure to select 'OMG – Unido Leadership Network' from the list of existing team names to join the ULN's team.
Safe spaces to share
Latino pride shapes Edward's New York upbringing
Edward grew up in Bushwick, a northern neighborhood in Brooklyn, New York City. The diverse Latino community there was evident even within Edward's nuclear family roots. His father immigrated to the US from a city on the coast of Ecuador, while his mother grew up in a rural village in the interior of Honduras.
Edward's parents met at the local church in Bushwick. Attending services there and singing choir in Spanish with the Latino community became a big part of his early upbringing. He lived on a predominantly Puerto Rican block and usually attended the Ecuadorian Day Parade.
"There was a pride within the Latino people I saw growing up every day." 
While some American kids might have fond memories of Disneyland, Edward took trips back to his parents' motherlands instead. After the trips, he returned with a newfound sense of gratitude for the things his life in New York afforded him, like sneakers and free education. While he learned to be grateful for those experiences because they opened his eyes to new perspectives on life, it was also quite a contrast to typical American experiences.
"There was always a gap where I felt like an outsider because I didn't fit into a typical American upbringing."
Because of these cultural differences, he often felt he couldn't relate to others. His family did adopt a quintessentially American holiday, though—with a Latino twist. On Thanksgiving, his family gathered to celebrate one another and also share a spread of diverse dishes, including his father's Ecuadorian-inspired ceviche. This holiday resonated with his family, who instilled in him the importance of caring for one another from a young age.
Edward makes a point to take pieces from each experience that feel authentic to him in forging his own path from his diverse background. Today, he still enjoys traveling, supporting local businesses in his community, and being a dog dad. 
Edward frequents dog parks and always feels a great sense of acceptance among the other dog parents. He loves connecting with others over a love of dogs—who come in all shapes, colors, and sizes. It seems to mirror the acceptance he feels in his diverse Latino community, who are often able to relate to each other through the shared Spanish language.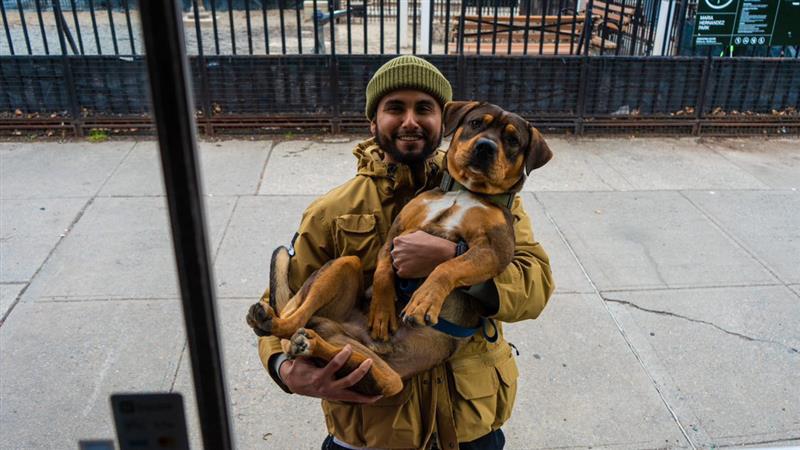 Edward now works at the NYC Hearts office as the Paid Social Supervisor and is happy to report that he feels accepted there as well—like his voice is heard. 

Pro tip: "Be proud of how you were raised and brought up. Not everyone can relate, but your upbringing is what sets you apart from everyone else, so be true to that without cutting down anyone else." Edward shares, "Never try to fake who you are."

Laura reconnects with her roots to unite her identity
Laura was born in Colombia but immigrated to the US when she was six. Her parents first sought a better future for their family in Texas. It was a big change as they transitioned away from their close-knit community of friends and family. 

After a year, Laura's family moved to the vibrant cultural hub of South Florida. There, they began to rebuild their sense of Latino community—mostly with Colombians and Venezuelans, who made up a large percentage of the population in their town. Keeping ties to Colombia through friends, food, and music felt natural. Laura fondly remembers attending the Latino Calle Ocho Festival in Miami each year when she was little.
"In a way, it didn't feel like we ever left our roots."
Laura also kept her cultural connection alive through language. At home, she would speak Spanish with her parents, but at school, she would speak English. In middle school, she began to notice a somewhat "siloed view" of herself taking shape—one person at home and one person at school. This continued into her experience in high school, where she was surrounded by American friends.

Then, when Laura moved to Chicago for college, she interacted with even fewer people who shared her culture. She found herself adapting to her surroundings—"Americanizing" herself. 

For the second half of her degree, Laura moved back to Florida to attend the University of Florida in a small college town named Gainesville. Here, Laura met a group of Latino friends from all over Central and South America. Their unwavering pride in their heritage ignited a dormant spark within her. By then, she hadn't visited Colombia for nine years and was ready to reconnect with her roots.
So, after being away for so long, Laura returned to her homeland one December. While Miami had felt like home for a long while, this trip to Colombia made her "snap back and truly embrace" her culture. She shared,
"I remember this overpowering feeling of like, 'Okay, I'm home.'"
Today, Laura lives in the West End of New York City and works as the Supervisor of Multicultural Strategy at Hearts and Science for the AT&T account. She loves to read and write—on brand with her journalism background. She still listens to traditional Colombian music she grew up listening to with her parents, describing it as "a pillar of our culture." And she now tries to visit Colombia once or twice a year.
"It's become more of something I'm consciously trying to enforce so that I don't lose that sense of grounding."
Pro tip: Laura shares her advice for other Latinos based on her personal experience: "Your culture doesn't need to be so siloed from your Americanized view of yourself. Both parts of your essence can show in whatever environment you're in. It doesn't need to be separate. Merge it and be proud."
Work should be a safe space, too
Hearts & Science is dedicated to building a space where its employees are recognized and feel seen. 
There are many ways you can support inclusion at work:
Participate in a network.

Hearts & Science invites employees to access the OMG Unidos Leadership Network and have a voice in how the company supports Hispanic and Latino employees and allies. Don't have one at your company? Contact your human resources department and be the force for change that starts one.

Attend upcoming company events.

Attend every company event that you can. Learn, enjoy, represent your perspective and share feedback on how your company can create truly inclusive programming. If you don't have any events, start one.

Show your support.

We created an email signature and a Zoom background for employees to use. It's one small gesture to show your support for Hispanic colleagues and partners and the greater community. Use ours or make your own at your own company.
What individuals can do on their own:
Shop at Hispanic-owned businesses.

Hispanic-owned small businesses are one of the fastest-growing business groups in the United States. News sites

Good Housekeeping

and

Woman's Day

have developed lists of Hispanic-owned businesses you can support.

Support events in your local communities.

A central part of this month-long celebration is the events that many cities across the U.S. work hard to put on. Events can include traditional dances, live music, art displays, and food stalls. Support your local community by showing up and taking part in any event happening in your area.

Philanthropy.

Consider donating your time or other resources to a Hispanic-focused nonprofit organization.
Andriena Coleman, US Director of DE&I at Hearts & Science, shares,
"Hearts is a workplace where new ideas can flourish. Together, this community of amazing individuals changes and grows through unique experiences and perspectives. Our differences are celebrated and truly invaluable to our organization."
The Hispanic community at Hearts & Science and beyond is bursting with incredible talent and valuable perspectives to share. Let's take a moment to listen and be a safe space to celebrate differences with those we interact with.